As the World celebrates International Education Day on 24th January themed, "Invest in people, prioritize education", it is an opportunity to highlight the importance of education and take stock of what has been done to achieve inclusive and sustainable development.
While a lot has been done to ensure universal education and school enrollment, more needs to be done to make sure that children are actually learning when they are at school. In a recent report by UNESCO, the school closures due to the Covid-19 pandemic have worsened what was already a "learning crisis." According to the UN, of the 90% of school children around the world, only 10% of 10-year-olds can read a simple sentence. The effects of the learning crisis, if not curbed early, will definitely affect the future workforce.
One indisputable fact is that the future drivers of this sustainable development are the children who can read and write. Tackling the learning crisis is an urgent matter and it will take strong leadership and commitment to invest in high-impact interventions to reverse the crisis.
The President of Rwanda, H.E Paul Kagame, while speaking during the 77th United Nations General Assembly said, "The future of billions of children and young people across the world, depends on overcoming the challenges of inclusion and quality of instruction, particularly as we recover from the pandemic".
While attending the High-Level Opening of the SDGs Pavillion and launch of the "Scoring the Goals" Campaign in Qatar, President Paul Kagame reaffirmed his commitment to quality education and said, "We want every Rwandan child, as we would wish for the rest of the world, to have an opportunity to have an education. We have been thinking about sustainability in every investment we make in our country, in our people, and starting with education."
Rwanda aspires to achieve digital literacy for all by 2035 and become a high–income country by 2050 and sustain it going forward to ensure inclusive participation in a knowledge society and attain new levels of productivity for the labor force.
Here are five recent reforms that Rwanda has adopted to transform education in public schools.
Infrastructure development
Thanks to the visionary leadership of the Rwandan Government, bold investments have been made to strengthen modern school infrastructure and facilities (electricity, internet connectivity) across all levels of education. This will prevent large class sizes and ensure all teachers are able to monitor learning progress, and will ensure an appropriate level of learning is taking place in their classroom.
Rwanda adopted a competence-based curriculum that emphasises creativity and application of knowledge and relevant skills that will enable them to compete globally in the 21st century labour market. They are equipped with learning materials necessary to master the syllabus and to realise their full potential in their education and career. Rwanda has also adopted Standardised Education, an approach that has been cited as one of the effective methods in reversing the learning crisis.
In an effort to offer quality and equitable education in public schools, Rwanda has made major investments focusing on leveraging technology that improves classroom effectiveness and links real-time data to policy making and improved learning.
Through the Rwanda Education Quality Improvement Program (RwandaEQUIP), the Government has adopted an approach to teaching that uses technology-enabled learning and proven pedagogical techniques. The same technology has been used to increase teacher attendance, improve instruction in class and school management.
In its first year of implementation, the program has shown its potential to accelerate learning gains and transform Rwanda's basic education with tremendous achievement in literacy and numeracy. The program is currently being implemented in 250 public and government-aided primary schools and by 2023, RwandaEQUIP will be operational in 761 schools supporting a million children.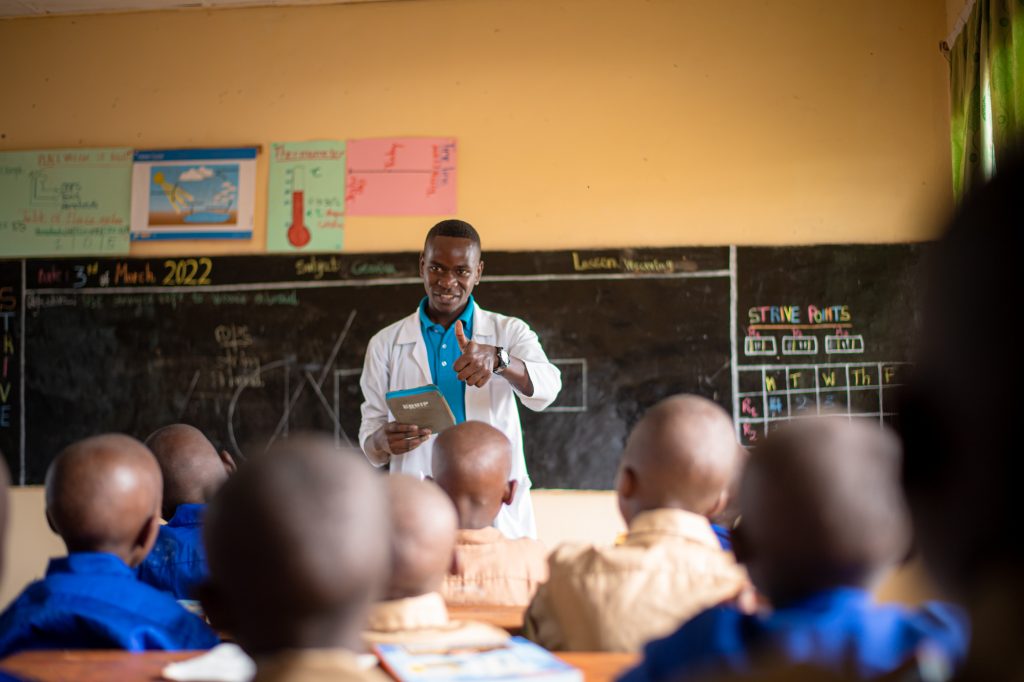 Commitment to improving the Teaching profession
Considering that a well-trained and supported teacher plays a crucial role in fostering student success by providing high-quality instruction, Rwanda has continued to make strategic investments to address teacher shortages, improve teacher welfare and professional development.
Effective August 2022, the primary and secondary school teachers received a salary increase of up to 88% and 40% respectively.This major boost enhanced teacher motivation and commitment needed to improve the quality of education and foster improvement and promote success for schools. More investment in effective training and continuous coaching for teachers and school leaders has been achieved. RwandaEQUIP alone has trained over 7000 teachers in one year.
School reforms to improve learner's wellbeing
In an effort to fully exercise the right to quality education for all, more reforms have been introduced with consideration of the learners physical and emotional wellbeing.
The school feeding program ensures that learners are healthy, well-nourished and able to complete their classes.
Additionally, effective January 2023, the schooling hours have been reviewed and classes now begin at 8:30 a.m and end at 5.00 p.m. This will promote quality education as well as improve both workplace productivity and family wellbeing. Learners will be supported by their families and which will set them up for success in their education.
All the above reforms and previous bold investments and policy decisions towards quality education have been made are testament that Rwanda has prioritized her people and is committed to investing in inclusive and equitable quality learning for all.