November 20th is World Children's Day, a day "to advocate, promote and celebrate children's rights". The right to quality education is crucial because it is the key that not only makes children aware of their rights but also guarantees enjoyment of those rights.
"Children of today are the leaders of tomorrow and education is a very important weapon to prepare children for their future roles as leaders of the community" – Nelson Mandela.
To many, education is perceived as going to school. However, schooling does not necessarily mean that learning is actually happening in classes. At the recently concluded Transforming Education Summit in September 2022, it was estimated that billions of children around the world are going to school but learning only very little. Shocking reports showed that only a third of 10-year-olds globally – especially in the world's poorest countries – are estimated to be able to read and understand a simple written story.
To make progress, there is an urgent need to put in place education systems and data to ensure that learning happens and is tracked for a timely identification of learning gaps.
The Government of Rwanda is implementing the Rwanda Education Quality Improvement Program (RwandaEQUIP) as part of its bold vision and ambitious plan to promote ICT-led education to effectively support and enhance quality of teaching and learning in schools. The program is currently being implemented in 250 public and government-aided primary schools serving almost 300,000 children across 17 districts, By the end of 2024, RwandaEQUIP will be operational in over 700 schools targeting a million children.
Most importantly, through RwandaEQUIP's holistic technology, the Government and stakeholders have access to digital insights on school performance including lesson delivery, attendance and learning outcomes in near real time. This enables the Government to make informed policy decisions on how to improve learning and teaching. It is important to highlight that the same technology is facilitating improved school management and accountability; making sure that every school is efficient, effective and transparent.
Through RwandaEQUIP, over 7,000 teachers have been equipped with the technology, skills and proven learner-centered pedagogical techniques needed to create a positive and engaging environment that instills in children the love of learning alongside acquiring the knowledge and skills children need to succeed in life.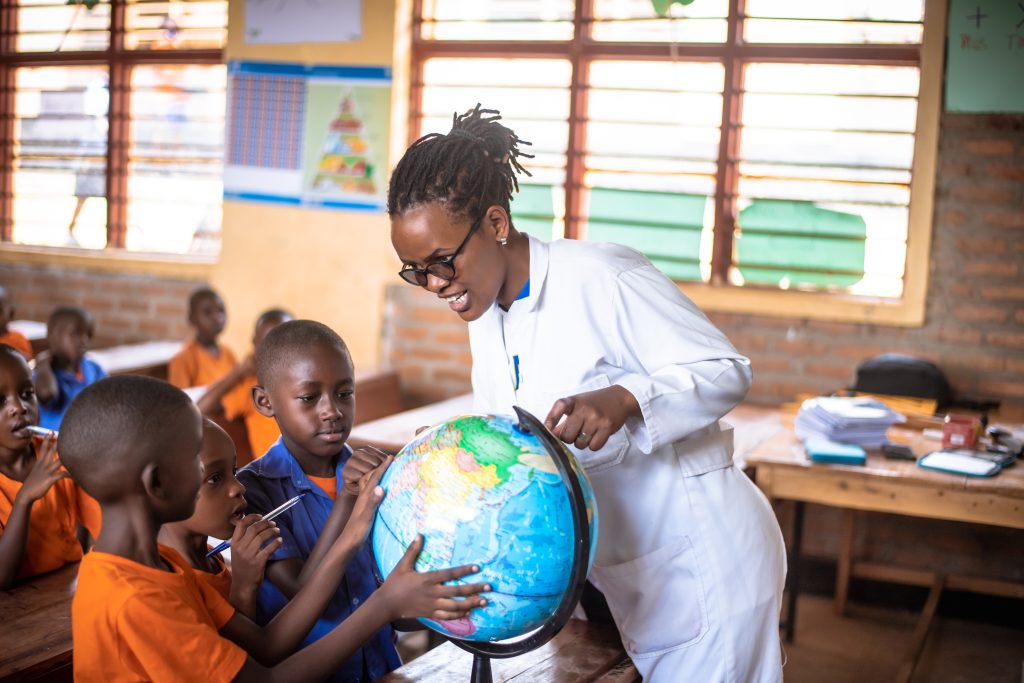 Atete Sonia, an enthusiastic ten-year-old attending primary five at Groupe Scolaire Kariyeri, dreams of becoming Rwanda's next lady chief justice. Her right to attaining well-being and serving her country will be actualized through quality education.
With the support of RwandaEQUIP, children like Sonia are being taught by trained, supported and empowered teachers. Teachers are delivering quality instruction founded on RwandaEQUIP's big four skills of effective teaching; using the teacher guides, move around the class checking on each and every child's learning; responding with feedback that accelerates student learning outcomes; and motivating students towards good behavior and academic effort. The teacher guides contain thoroughly researched and carefully designed daily lesson plans that are built around the national curriculum. The children have access to high-quality learning materials. This is the kind of effective, equitable and engaging learning that children like Sonia and her peers need to reach their full potential.
The holistic and highly structured education methodology adopted by RwandaEQUIP has been tested and proven as an effective education intervention that significantly transforms learning outcomes at speed and at scale.
The 2019 Nobel Prize-winning economist, Professor Michael Kremer in a study suggested that children living in underserved African communities could receive 53% more learning, over their early childhood and primary school career, in schools supported by NewGlobe; the technical partner to the Rwandan Government's RwandaEQUIP program. The study revealed that after two years, primary school pupils, through Grade 6 in the NewGlobe's program in the study, are nearly a whole additional year ahead of pupils taught using traditional methods. For early childhood development (ECD) pupils gained an additional year and half of learning, learning in two years what pupils in other schools learn in three and a half years.
The same results are evident in Rwanda. After just five months of RwandaEQUIP intervention, teachers have increased their efficacy in integrating technology to foster success in their classrooms.
RwandaEQUIP is designed to improve learning so that all Rwandan pupils can build a better and brighter future for themselves, their families and all Rwandans, contributing to the country's rapid and sustainable socio-economic growth.